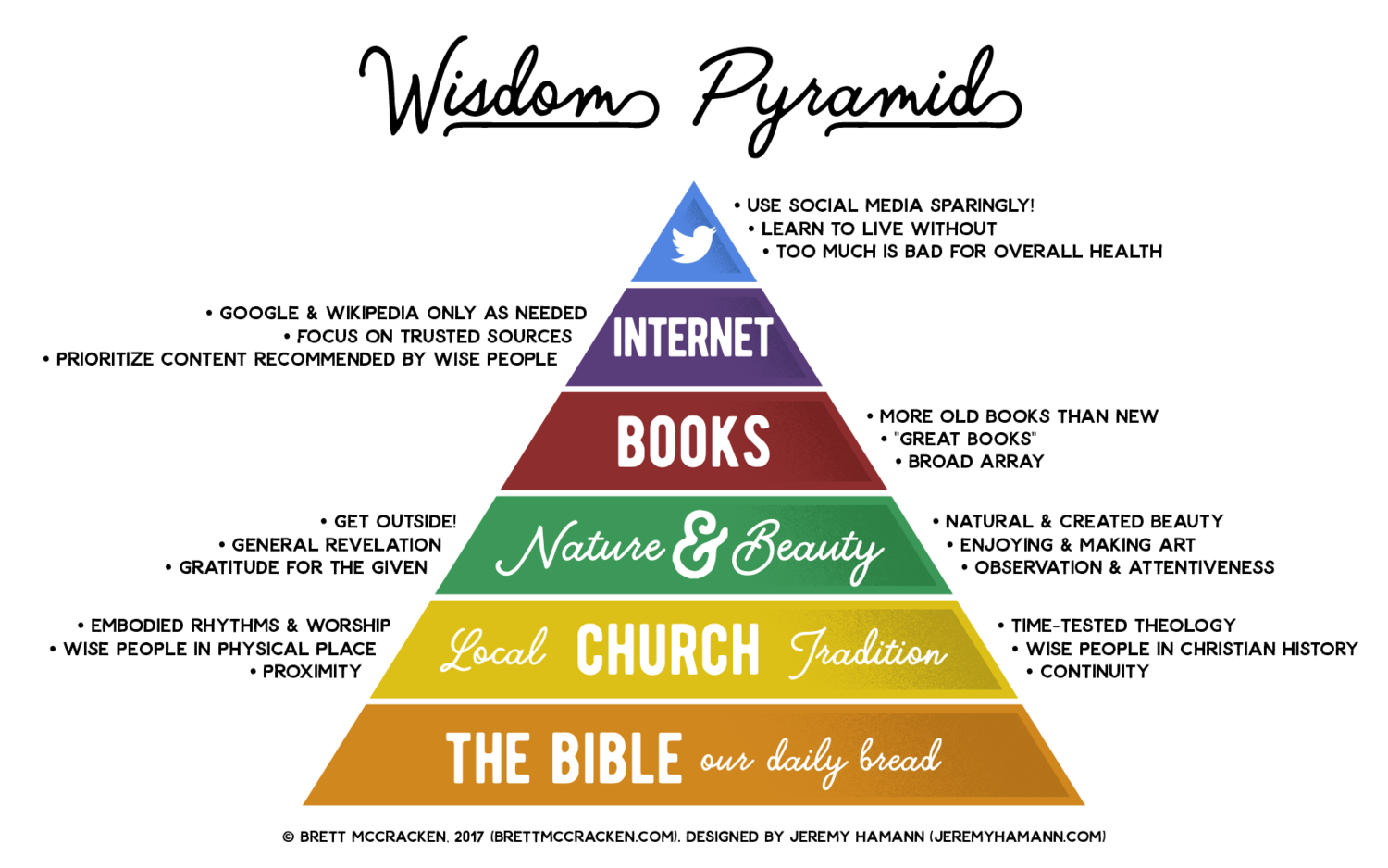 While preaching from 1 John 4:1-6 on January 5, I encouraged us to invest our time and energy more wisely this year to help us avoid false teaching. By God's gracious providence, my thinking was triggered in this direction by a resource I saw last week called the Wisdom Pyramid. It was developed by Christian author Brett McCracken, and first published on his blog in 2017. Using the old food pyramid concept that many adults will remember from elementary school, he outlines a wise spiritual diet. Note the overall concept and the individual categories.
The foundation of the pyramid and the largest section should be the primary and dominant source for spiritual intake. The Bible is the inspired, inerrant, and infallible living Word of the Living God. Our church's statement of faith describes it in the following ways. It is God's revelation of Himself to man and is a perfect treasure of divine instruction. It has God for its author, salvation for its end, and truth, without any mixture of error, for its matter. It is the ONLY resource we have that is totally true and trustworthy. Therefore, we'd be foolish to give the priority of our time or energy to any other source for our daily bread.
Stepping up from the bottom, the second-largest level for wisdom is the Church. While the Church does not hold the authority of Scripture, it is a reliable source of truth and information. As McCracken notes, we can look back to find "time-tested theology" and glean from the wisdom of Christians throughout church history. In addition, we can feed on the weekly instruction in the word in our local context and the wisdom of people who are living for Christ in our culture.
He refers to the next level as "Nature & Beauty." According to Psalm 19 and
Romans 1, God has revealed truth about Himself and us in the world around us. We cannot learn about salvation from nature, but we reflect upon the glory of God and stir gratitude in our hearts for the common grace of living in this naturally beautiful world.
You might be surprised to find "Books" higher on the pyramid than nature, but I appreciate his ordering. I have great love for books, but nature is a "book" all of us can read. Having said that, reading is an important source for knowledge. As I mentioned in the sermon from 1 John 4, not all "Christian" books are equal. We must be careful to invest our time in ways that build our confidence in God and Word rather than shake it. If you're looking for solid resources, I'd direct you to our church's library cart in the Missions Lobby on Sunday mornings and in the Office Lobby on Wednesday evenings.
The top and smallest two levels are the Internet and social media. While not included, you could add television here as well. Unfortunately, the average American Christian depends on these two sources more than any other. They can be useful so I don't think we have to avoid them altogether. However, many will benefit from abstaining from this for a season as they reorient their hearts and minds.

Alarmingly, some of us have grown weaker to the point of near starvation because we've lived on a diet that reverses this pyramid. The Bible holds the smallest place while social media dominates. Let's flip it this year and watch God work powerfully in our hearts and congregation.