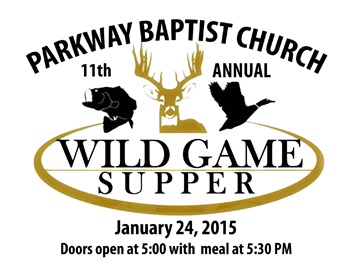 About 12 years ago a group of men from Parkway Baptist Church started thinking of a way to reach people that were un-churched or not regular attendees to any church. Men that enjoyed activities such as hunting, fishing, camping, and trap shooting became the targeted group. People were sought out that enjoyed and had experience in these areas to plan and lead in this ministry. One important requirement was getting people to serve that hadn't lost any limbs yet. That was when my brother Danny and I were asked to help with the planning.
Because we were thinking about using pyrotechnics and guns, there had to be a space that this could be done safely or at least not having law enforcement called too often. Danny had a cabin and farm that has been used since the beginning for these events. The initial planning started with the men's trap shoot and quickly included a wild game dinner to appeal to the targeted group. Later a father/daughter and father/son campout have been added. Some people refer to this type of ministry as "affinity groups." These are non-traditional ministry events.
Each year starts out with the Wild Game Dinner, usually held in January when everything is a little slower. The Wild Game Dinner was meant to appeal to people that didn't attend any church very often. Our membership was encouraged to invite visitors for this event. The Wild Game Dinner was a way of not making it feel too "churchy" at the beginning while also introducing them to the Gospel and our building.
At the first dinner we had 35 people and still ran out of food because we didn't know what to expect. All the road kill had already been picked up close to church so we didn't have any way to fix more quickly. (For the benefit of the squeamish, I was teasing.)
The second year our attendance grew to 96. I think part of the reason for the increase in attendance the second year was because people were watching to see if anyone died from the first dinner. We started discontinuing what wasn't working and adding things that were working. I visited other churches to see how they planned for similar events and then put our own spin on how to best appeal to our targeted group.
Three things that we worked hard to improve, or add, were to make sure we had plenty of food and it was well diversified, adding quality door prizes, and known quality speakers that could deliver the gospel. Danny and Janet Raisor have done a good job of booking speakers that have appealed to the sportsman and delivered a suitable message for this crowd.
As I mentioned earlier this ministry is more than the Wild Game Dinner because we also hold other events that would appeal to the outdoor person or a person that might want to be an outdoor person. There is a father/daughter, father/son campout, and a men's trap shoot all held in June. I don't think enough can be said about the interaction of a father and child in a tent for a weekend when new things are being learned by both. Sometimes the father learns more than the child. Shooting a bow, rifle (only with father's permission), mud slide, hot dog roast, are some of the activities. PLEASE NOTE! We have never had to call out the rescue squad to locate a child or father. Prying snake jaws off someone's finger or crawdad pinchers off body parts would be about the extent of a photo opp moment. There have been no sightings of sabre tooth tigers, Burmese pythons, or sasquatches in the area so you will have to take the child back home that you brought.
A men's trap shoot completes the events for the year and gives men a chance to interact with one another, meet new people, and provides an opportunity to invite a friend or neighbor. This event is casual and can be participated in as much as a shooter wants or doesn't have to shoot at all. Not everyone that comes participates in the shooting. If someone doesn't own a gun – no problem, there are guns that can be used. Just bring ammo. Clay pigeons are provided by the ministry.
A meal is provided at the end of the day (usually fish) and provides for some quiet time to reflect on the day and new friends made.
I feel most men would enjoy some or all of these events if given a chance. Sometime children remember smaller things that they participated in more than attending major tourist destinations.
We need to thank God for all the beautiful things that he has given us for enjoyment, food, and family interaction. There is a bounty out there to be enjoyed.
You can purchase your tickets during office hours or on Sunday Morning at the Information Desks.