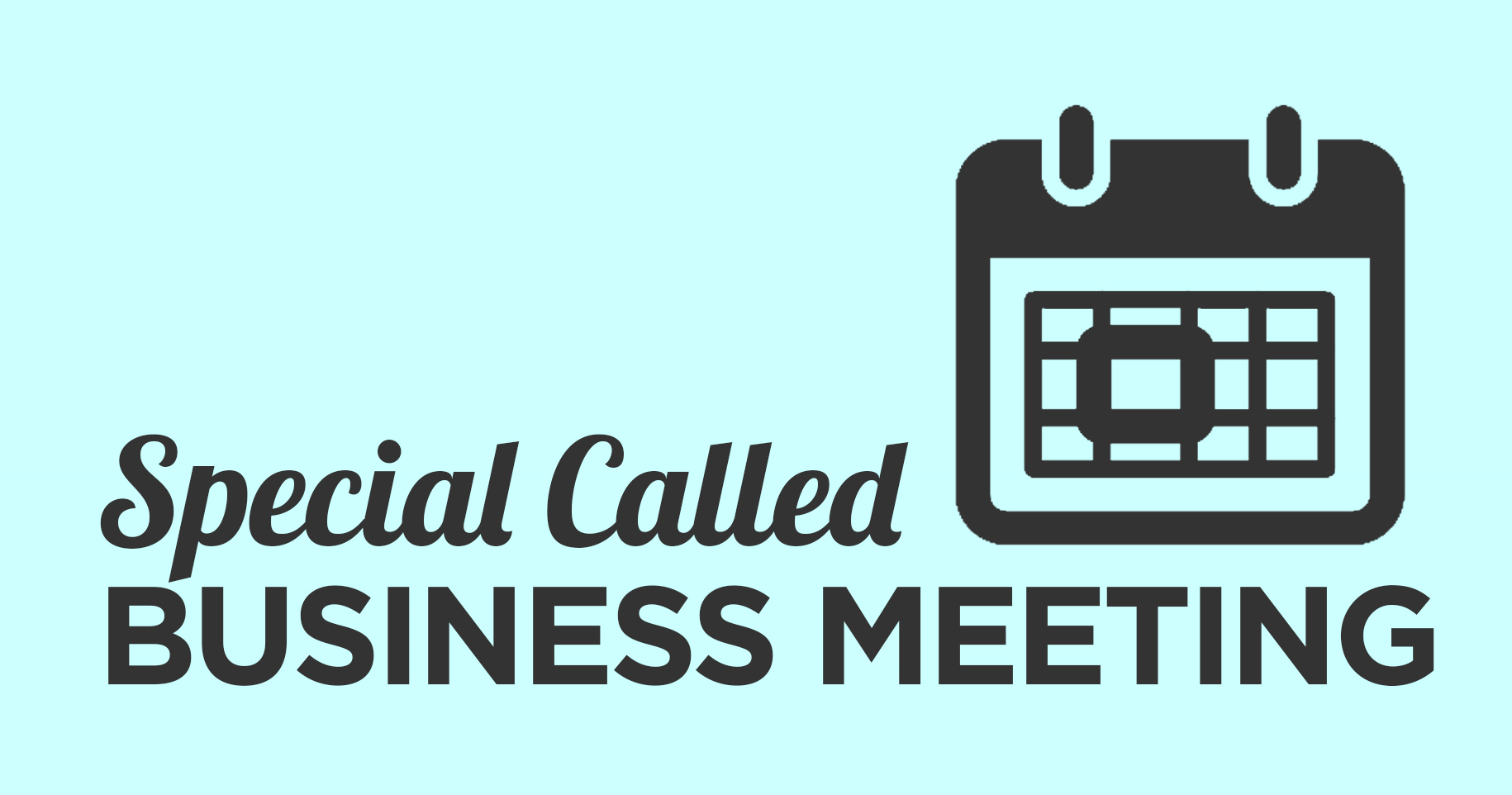 Special Called Business // Members Meeting
Posted by James Carroll on
In the March newsletter, I shared an update regarding our ministry staff situation and some information on how we planned to proceed. I'm following up this month with some exciting news about our immediate future and our long-term plan.

After receiving the affirmation of our key leadership groups – Ministry Staff, Administrative Team, and Deacons – the elders will present a ministry staff candidate to the congregation in the coming weeks. We plan to share biographical information about him on Sunday morning, August 12th, and speak to the hiring process during the business/members meeting that evening. The following weekend, we'll provide opportunities for our church family to meet him before he shares in congregational worship on Sunday, August 19th. At the close of that service, we will hold a special business/members meeting to consider a motion from the elders to call him as a Pastoral Associate.

While his primary focus will be student ministry, we look forward to the blessing he will be for our entire congregation. We're excited to bring this candidate for many reasons that we hope you will recognize quickly. He brings a personal spiritual vitality, ministry giftedness, and love for the church that we expect God will use to edify our church and expand our efforts to accomplish His global mission.

Parallel to the hiring process and per my promise in the March newsletter, we have continued to evaluate and assess our ministry footprint this year. To this end, the elders developed five ministry goals that will help position us for even more effective ministry in the days and years ahead. I cannot share complete details about them at this point, but I want to whet your appetite for what is to come. As the regular meetings, ministries, and programming proceed, we will give attention to five aspects of our church's overall ministry. These emphases will allow us to glorify God by making disciples more effectively, both near and far.
1. We will reorganize our ministry staff to better utilize each person's gifts and to fulfill our ministry more effectively. After observing the way our team pulled together under Pastor Matt's leadership this year to maintain our ministry footprint, I'm even more eager to implement some shifts that will bear similar fruit in long-term.
2. We will develop a specific and strategic plan for equipping and discipling one another. Through Sunday School and Wednesday evenings, we have a framework and much good work is happening, but we need a simple spiritual growth plan for every single member.
3. We will increase our emphasis on and work in evangelism. We need a greater burden for the lostness of our community, greater commitment to pray for their salvation, a greater investment in building relationships with unbelievers, and a greater urgency to share the good news.
4. We will begin a conversation about church membership. As you read last month, we will bring this often overlooked area of biblical teaching to the forefront in the months ahead.
5. We will pursue greater alignment for all our ministries in regard to our vision and philosophy, which prioritizes church health and gospel growth. We will continue to shepherd all aspects of our church's ministry toward increasing cohesion around these values.
Please join me in praying for our congregation and yourself related to these five areas. God is accomplishing a good work in and through us and I'm excited about what He has planned.