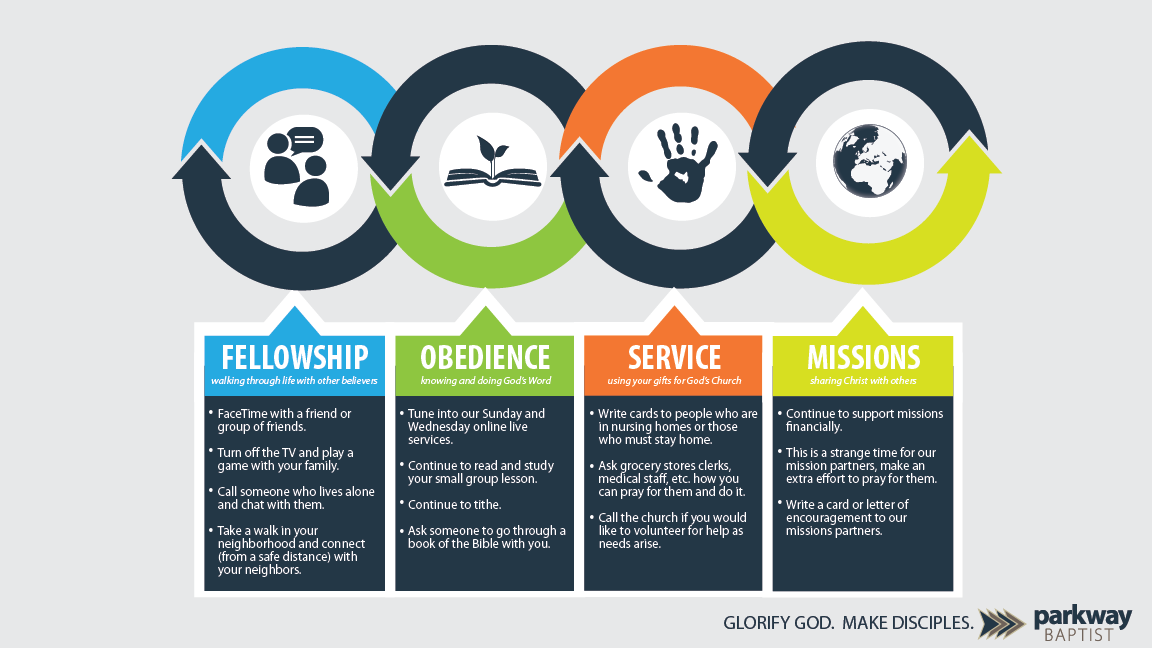 Imagine that [a] pandemic swept through your part of the world, and that all assemblies of more than three people were banned by the government for reasons of public health and safety. . . . How would your congregational continue to function?"



Colin Marshall and Tony Payne,

The Trellis and the Vine

, p165
The Trellis and the Vine has been a key resource for my understanding of ministry and for our church's ministry design for nearly a decade. It articulates a paradigm for ministry that strives for gospel growth and has been required reading for our leadership since I arrived. Written in 2009, the above quote is from the final section of the book. Sounds prophetic, doesn't it?
I was reminded of that portion of the book this week and it only solidified that as a church, we are built for this moment. All of our work to redesign our ministry for the past several years has positioned us perfectly to respond to the new ministry context.
Our Mission and Vision have not changed. We still exist to glorify God by making disciples. And we will still work to accomplish this goal through a strategy given to us in Acts 2 and summarized by four characteristics or pillars of ministry: fellowship, obedience, service, and missions.

As much as ever before, we are committed to this basic ministry aim and this dominant strategy. This strange season, however, is causing us to adapt our ministry execution by emphasizing some aspects more, eliminating some, adapting others, and adding new ones. Even through these adjustments, the core of who we are and what we do will not changed.
The execution & delivery of our ministry is shifting significantly so I want to share about that with you. We're so blessed with a beautiful and spacious property that provides an avenue to minister to hundreds of people multiple times during a normal week, but because of the current restrictions, it's mostly dark and not as useful of a tool. While we can lament our loss, we are not in despair because, once again, our mission & vision were built for this moment.
Using the same language and principles we've used for the past 9+ years to spur us on in our personal, congregational, & missional growth, I want to redefine what it means for each of us to be a member of Parkway in this strange moment.
FELLOWSHIP
We will continue walking together in fellowship with one another working and praying for the unity of the Spirit in the bond of peace. We must stay connected with one another. Part of this connection is communication. One of our first steps last week was to establish simple & clear lines of communication. Once again, we'll be using the Wednesday evening livestream, the Thursday email newsletter, and our Sunday morning livestream as the primary means of communication. In addition, we'll post other items of interest to our Facebook page, but the necessary communication will come through these three. The burden for you to communicate with us also shifts. I hope you've noticed an increase in our personal outreach to you, but we also need you to take more initiative to reach out to us to stay connected as well.

To this end and while we are prevented from meeting together in person, each of us must make it a priority to participate in congregational worship through technology and invest even more heavily in more intimate relationships and discipleship. For nearly a decade, we've said the most important place to accomplish our vision is through the small group. This has never been more obvious than it is today. We've always urged you to stay connected with your group beyond Sunday morning and this is mission critical now.
A second aspect of our ministry of fellowship is care. We must continue to rejoice at each other's happiness and strive with tenderness and sympathy to bear each other's burdens and sorrows. Again, the common moment of care that happens each Sunday morning has been removed, but we are undeterred. We can find new ways to watch out for one another & express our love and affection.
OBEDIENCE
We are also committed to walking step-by-step together toward in spiritual growth. We continue, through the power of the Holy Spirit, to live differently than the world and to pursue increasing obedience to God and His word. As always, we will lead you to know and understand God's Word through careful and diligent congregational study every Sunday morning.

In addition, we'll continue to deliver timely, contextual content each week as the regular teaching ministries of our church using technology as a medium. We'll encourage our Sunday Small Groups to use technology for virtual meetings to study the word together, but still provide live teaching for those groups who want to take advantage of it. We'll provide live teaching on Wednesday evening and even continue during the ordinary spring break weeks. We're providing daily devotions for our students and lots of resources for families to continue in The Gospel Project and to implement regular family worship.

But again, the primary instrument for spurring one another on toward obedience to Christ is our mutual, personal investment in one another. The current restrictions on gatherings do not prevent discipleship groups from continuing. Even if your group is uncomfortable meeting in person, the virtual meeting applications offer a great alternative and an opportunity to continue. While it might look different, our commitment to one another remains. We must strive, by the Holy Spirit, to help one another live in obedience to God's Word.
SERVICE
We must continue to serve one another in practical ways by utilizing our gifts for the common good of the Body. This includes investing our time, spiritual gifts, energy, and resources to work together for the continuation of our faithful ministry. Service to one another has most often been concentrated around the church building and launched out from here. We must now think creatively and proactively to anticipate and meet the needs of our fellow members.
We must also continue to give regularly and joyfully to the support this ministry, the expenses of the church, the relief of the poor, and the spread of the Gospel through all nations. While some of us are already feeling the brunt of economic hardship and we are hearing speculation about more to come, we are responsible to demonstrate our reliance on the Lord by continuing to give faithfully and proportionately. I hope you've already seen the graphic about the ways to give. If you have any questions, feel free to call and Mandy she can walk you through any of these new giving platforms to help you decide which is best for you.
MISSIONS
Finally, we will, by our lifestyle and verbal witness, seek the salvation of our family and friends. Perhaps more than any time since 9/11, the people around us are open to spiritual conversations. I'm so thankful for God's providence in leading us to study 1 Peter on Wednesday nights this semester. If you didn't participate, I encourage you to go on the website and listen to those teachings. In summary, they remind us of our responsibility to always be ready to share the hope we have in Christ. Once again, we should never rely on the church building to be the primary platform for our mission outreach. In this season it simply cannot be. I'll continue to proclaim the gospel on Sundays and we'll broadcast it near and far, but we must take the initiative to spread the gospel in our homes, neighborhoods, workplaces, & community.
I know that's a lot of information, but I wanted you to hear how our marching orders as a congregation find application in this different and difficult time. I thought it would be helpful to leave you with 3 words that capture the essence of our approach moving forward: Mobilize, Minister, & Mission.
More than ever before, I hope you see the necessity of mobilizing every member of our congregation to execute our ministry. Our small groups were always intended to be ground zero for ministry. Every member will require some basic care, but each group will require something different. Small group leaders will become key touchpoints for us and it's vital that each group is equipped and empowered to love one another well.
With every member mobilized, we will minister to one another in meaningful ways. Think creatively and proactively to anticipate and meet needs in each of the 4 areas of our vision. Realize that our ministry must be holistic as we care for one another spiritually, socially, physically, and emotionally. Allow the ideas we've shared and the ways we're ministering to be a springboard for you and not a box. This leads to the second word…
We must seize this moment by living on mission in our community. We must be ready to share the good news of the gospel of Jesus Christ with appropriate sensitivity & urgency. If folks are secluded for weeks, the economy lulls for an extended period, or if people begin to die at alarming rates, the door for gospel conversations will swing wide open. And when it does, we will walk through it.
We are not slowing down; in fact, in many ways, we (the whole Body) can now be mobilized in new and fresh ways to meet new and growing needs within our church family and our community. This is a difficult time, for sure, but it can also be a fruitful time for our personal growth, congregational unity, and community outreach. I love you. I'm praying for you. And I can't wait to see you again soon. Until then, let's mobilize, minister, and live on mission.