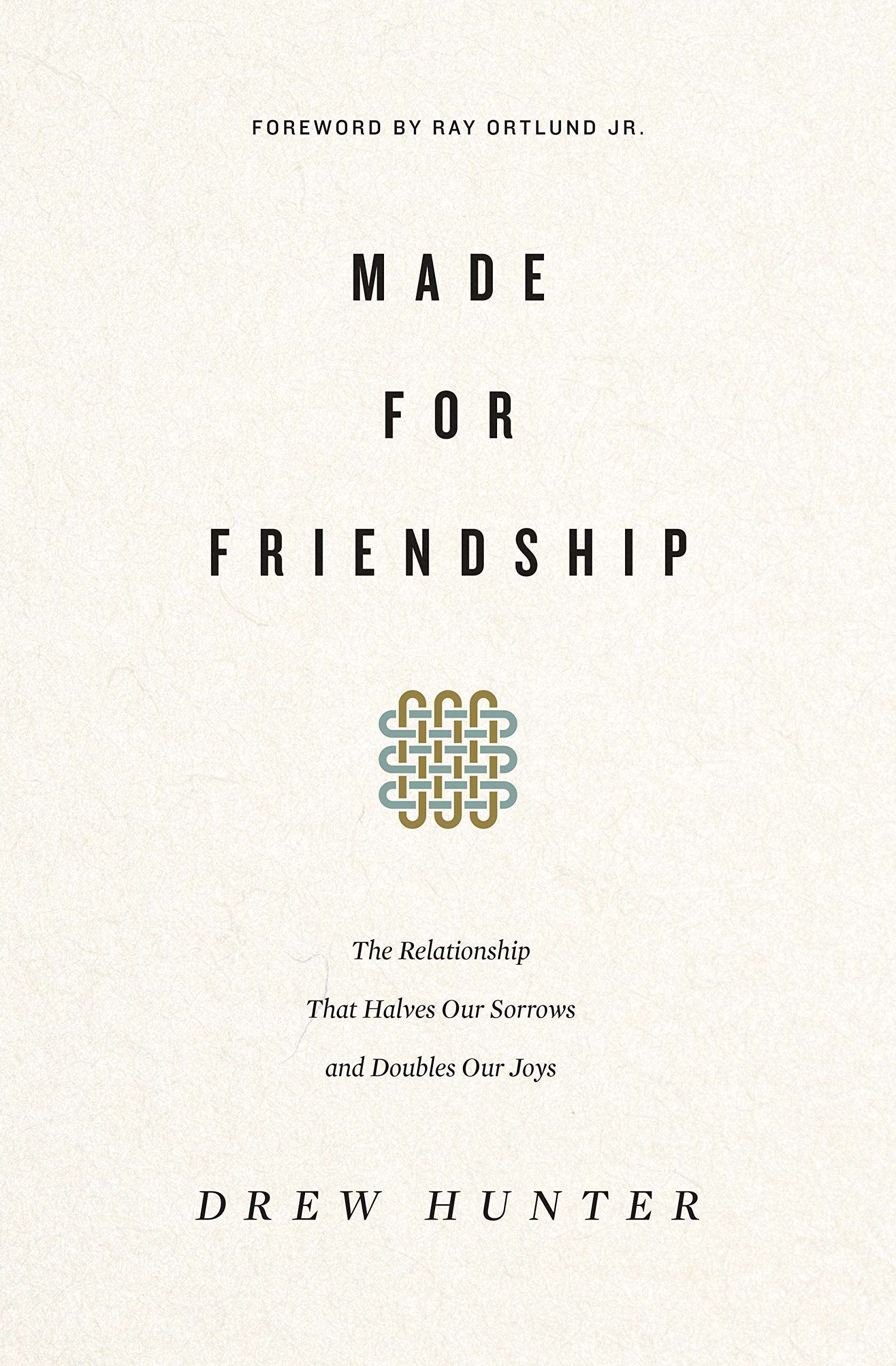 "This world is full of sorrow because it is full of sin. It is a dark place. It is a lonely place. It is a disappointing place. The brightest sunbeam in it is a friend. Friendship halves our troubles and doubles our joy." J.C. Ryle
God made humans to be in relationship. First and primarily, we ought to relate properly to Him. But secondly and vitally, we ought to relate to other people. Our need for one another is made more glaring by sin, but it is woven into our nature from before the fall. Genesis reveals that God saw and met Adam's need for companionship prior to his plunge into rebellion against the Creator. Making Eve from Adam to be united to Adam in covenant marriage reveals a particular type of relationship that exceeds friendship in some regards. But at the core, their relationship displayed a God-honoring and God-reflecting intimacy that forms a basis for what the Bible calls friendship.
You might think a plea for friendship is unnecessary, but I was convinced by Drew Hunter's recent book, True Friendship, that our culture has largely lost this rich and rewarding gift. Rather than developing meaningful and life-giving friendships, we settle for acquaintances based on shallow similarities and preferences. We surround ourselves with people who for the most part look, think, and act like we do avoiding the more difficult investments required by friendship. Thus, we rarely ever take the time to move beyond surface-level conversations to forge the type of intimacy grounded in honesty and acceptance.
Biblically speaking, friendship is a word that communicates love. Jesus words are crystal clear in this regard. "Greater love has no one than this, that someone lay down his life for his friends." (John 15:13). Certainly, there are aspects of our friendship with Jesus that are unique and don't transfer to friendship in any other context. However, Jesus connects friendship and love in a way that is out-of-step with our modern use of the word which has been co-opted by Facebook. Friendship is more than receiving regular updates, commenting on major life events, and "liking" new pictures of the kids/grandkids.
We saw this concept of friendship illustrated during our recent study in 1 Samuel between Jonathan and David. They enjoyed a relationship of covenant loyalty and deep love (see 1 Sam 18:3) that has been and should be a characteristic of God's people. Their friendship was a gift that, in Ryle's words, "halved their troubles and doubled their joy." God desires for us to develop these types of friendships as well.
In the name of friendship, then, I want to encourage you once again to invest your time, energy, and life in developing intimate relationships with others in our local church. Your sphere of friendship will extend beyond our church family, but it must include it. Make every effort to take advantage of Sunday small groups and dive deeper by forming a discipleship group. For many of you who are already investing in this way, allow these words to spur you on as you continue.
There is so much more to say about this important topic. For deeper study, consider picking up Hunter's book. For help in navigating friendship, find one of our staff members this week. We'd be happy to serve you in this way.