Greetings from Colombia!
Posted by Lori Hart on
Our first week in Colombia has been surreal to say the least. It's hard to believe we are here and yet the sights, sounds and smells tell us we are definitely in Bogota!
Bogota is the busiest place I have ever seen. The streets are packed with taxis, buses and motorcycles. Everyone has somewhere to be. The barrio we live in has beautiful parks that we go through daily. We average walking about 5 miles a day. I love walking through the shopping district in our barrio at lunchtime. We must walk by 20 small restaurants a day just walking around our neighborhood. It smells incredible!
We are becoming regulars at several establishments. A small drogueria (drugstore) where the girls get ice cream and the Juan Valdez Café, where we get, you guessed it, coffee. It's so fun to be recognized by the workers. They smile at us and know exactly what we want. The young ladies at the Café even practice their English with us. It's nice to be on the other end of language learning, even if it's just for a few minutes. Being able to communicate is one of our top priorities now. We would love to be able to speak to the hearts of the people we are building relationships with.
In all of our moves the Lord has always provided every one of us with at least one close friend, someone we really connect with. Even with the language barrier, He is working and moving in our hearts and in those around us. We already sense bonds forming and are so thankful to Him for that. He certainly knows what we need, when we need it.
Somehow, even in all the hustle and bustle of city life, the people of Bogota are among the nicest, warmest, most hospitable people I have ever met. It is no exaggeration that they LOVE to serve. We are so excited to join the ministry here and to work with such warm, loving people.
The girls are adjusting well. We went to our first Colombian birthday party on day 2. Most of the new missionary families here have small children, so Morgan is loving looking after babies while the adults visit and as you can probably imagine, Payton and Hayden make new "BFF's" daily. English is taught in the schools here, but most people don't speak it at all. A visit to the park can quickly turn into lots of kids excited to practice their English with the Americans.
We are somewhat of an attraction at times, but we love the smiling faces and little voices speaking Spanish so quickly and throwing in a word or two of English here and there. One boy yelled across the park, "What are you doing?" I answered and asked him the same question, but could tell by his lack of response that he had no idea what he had just said. He grinned ear to ear and kept walking with his buddies who were laughing at him…or at us.
Life in the city is different, but good. God is with us and comforts us as we adjust to big changes. We are learning to depend on Him for even the smallest of things and for that we are humbled and thankful. Thank you for your continued prayers.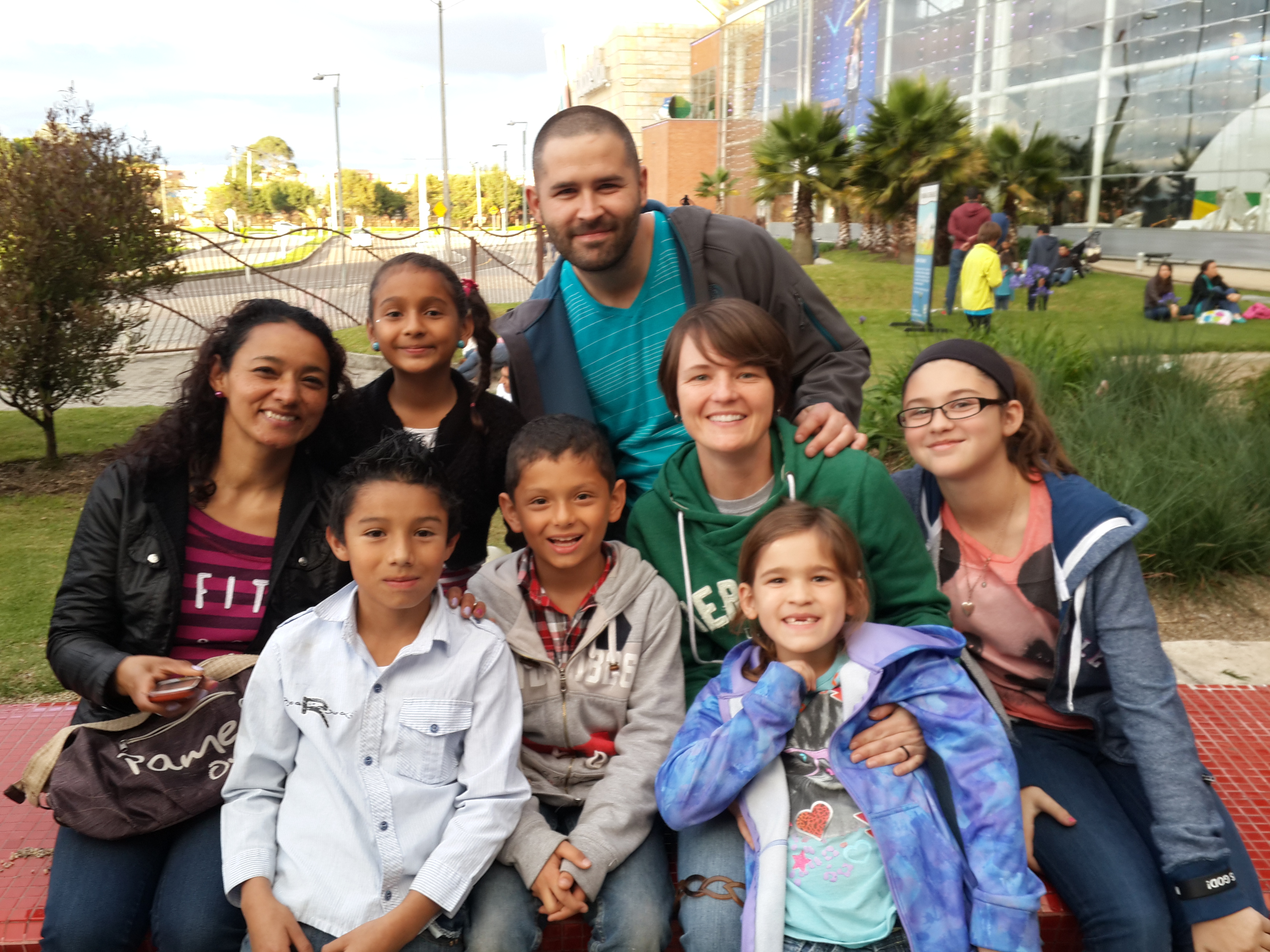 Some new friends we met at the park. The boys were so excited to say all of the English words they knew.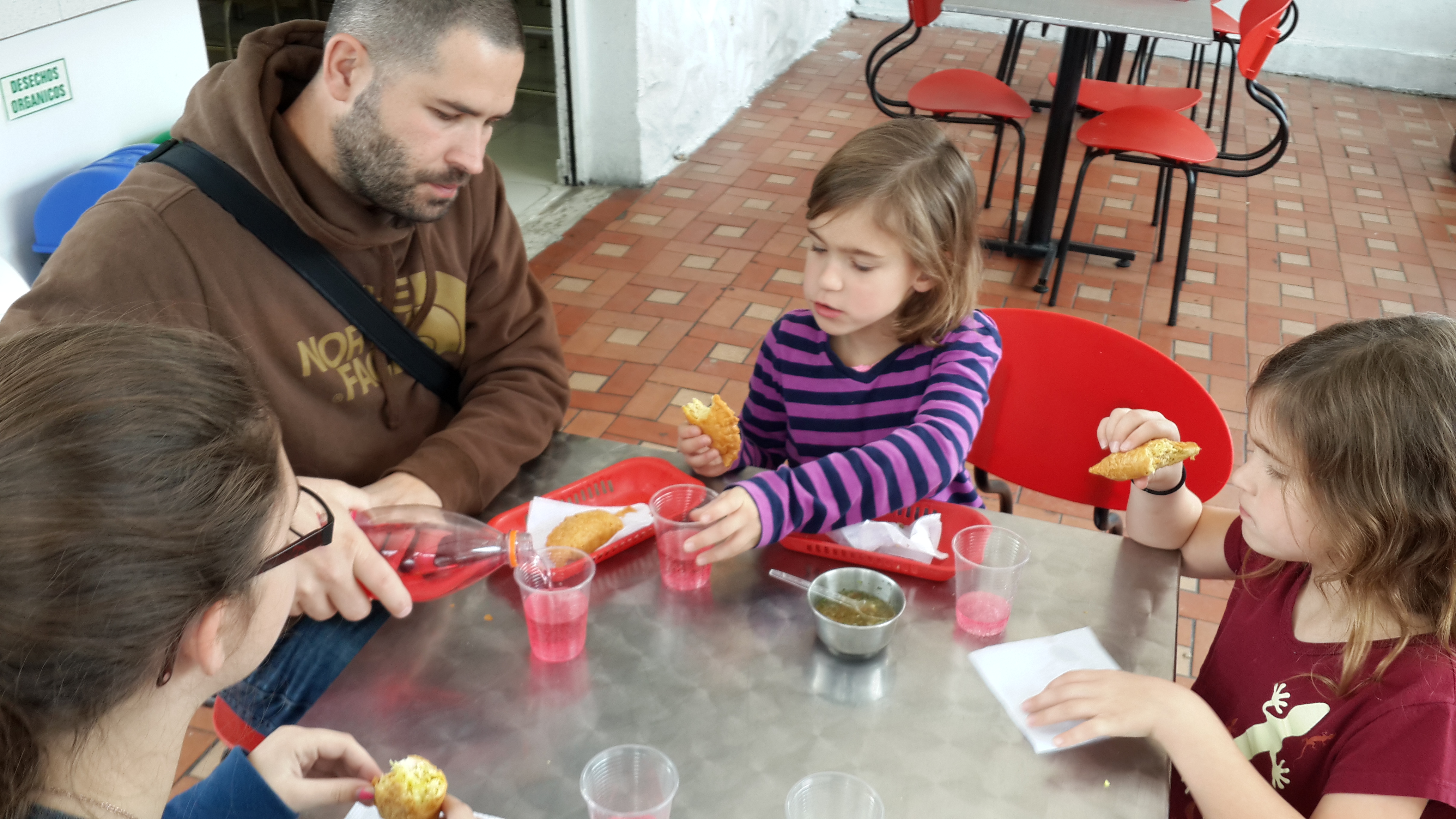 Lunch. Empanadas at a restaurant in our barrio.